We heard it before we felt it: a low, otherworldly moan.
I looked around the fifth floor conference room, quickly searching the faces of the dozen or so people seated around the long table. I was looking for clues; their eyes told me they'd heard it too. But did the sound mean what we thought it meant?
It did.
Within two, maybe three seconds, the shaking began. In the two years I'd lived in California, I'd experienced two similar quivers — one of which awakened me in a Disneyland hotel room, of all places. While those earlier quakes had died down quickly, this one kept rolling and then suddenly gained great force, like a Tropical Depression that sprouted within seconds into a Category 5 hurricane.
I looked into the eyes of the others in the conference room again, and whereas before I'd seen alertness, I now saw alarm. We knew what to do. Get under the table. Move away from windows. Stand in the doorway. The shaking lasted about 15 minutes, it felt; but later, we learned it was only about 15 seconds.
It was 5:04 p.m. on Wednesday, October 17, 1989, and we'd just experienced what would come to be called the Loma Prieta earthquake, 6.9 magnitude on the Richter scale.
The Marina district after the 1989 earthquake. Credit: AP
Immediately after those soul-rattling 15 seconds, no one spoke. We just looked at each other, unsure what to say or do. There was no sense of panic. Nothing had fallen from the ceiling; the large plate-glass windows hadn't cracked; we heard no cries for help. The only thing that had changed was that the overhead lights had gone out. At the moment, the lights were superfluous anyway, as golden sunlight streamed through the windows on what had been a spectacular 'Indian summer' San Francisco day.
"Is everyone OK?," I asked.
"Yes," someone said. Others nodded their heads in agreement.
Thank God, I thought, because I had a fast-approaching deadline to make.
The Judges Went Back to Judging
The conference room occupants were there because I'd asked them there. I was a features editor at Publish, a magazine focused on desktop publishing — the use of Macs and to a lesser degree PCs to create and publish printed materials. I was in charge of the magazine's annual desktop publishing awards, and I'd spent months corralling this panel of desktop publishing experts to judge hundreds of entries in dozens of categories. I didn't know what I'd do if we had to call it off. I panicked, not because of the earthquake, but because I didn't want anything to prevent me from making my deadline.
"Does everyone want to continue?," I asked, and then half-heartedly added, "It's OK if you need to leave."
No one wanted to leave, or at least, no one said they wanted to leave. After a few minutes, the judges went back to judging. I breathed a sigh of relief.
My Intuition Told Me: Try the Fax Machine
I don't often trust my intuition, even though it has time and again served me well. This is probably because, like my late mother, I tend to overreact. I imagine the worst-possible scenario, and then, once it's in my head, it's all I can think about. But on this afternoon, I relied on my intuition.
I excused myself from the conference room, walked over to my desk, and picked up the phone. As expected, there was no dial tone. The telephone lines were down because the office phone system required power to work, and the power was out.
My next move was to the fax machine. Because it wasn't part of the office telephone system, my intuition told me its phone line might still be operational. I picked up the receiver and heard a dial tone. I looked around, surprised no one else had thought to do this.
I dialed Nick's office number multiple times but each time heard an "all circuits are busy" recording. Trying not to worry about him, but not succeeding, the next call I made was to my parents in North Carolina. My mother answered after the third ring.
"Mom, I can't talk long," I said. "And I don't want you and Dad to worry, but we've had an earthquake."
"Oh my God!," my mother yelped.
"I'm OK, everything's fine, but it felt like a strong one and the power's out, and I didn't want y'all to worry about me if you hear something on the news."
"I just knew this would happen!," she said. "I feel like you moved to the moon!"
Two of my co-workers must have overheard me on the fax machine phone, as they were now standing behind me, waiting to use it. "I've gotta go," I said. "I'll call you back soon. Again, please don't worry about me, I'm fine."
I returned to the conference room, where my judges continued to sift through the organized piles of entries. "If anyone needs to use the phone, the fax machine line is working," I said. No one took me up on the offer.
The Bay Bridge Collapsed!
Minutes later, David, a young editorial assistant, popped his head into the conference room. In one ear, he had an earbud, attached to a portable AM/FM radio.
"The Bay Bridge collapsed!" he informed us.
At this news, two of my judges left to join the line now snaking around the fax machine phone. I asked the others if they wanted to keep working and, God love them, they said yes.
Eventually we could see black smoke billowing on the horizon — we later learned of major fires breaking out in the Marina district. And yet, the judges stayed amazingly focused. Whether it was out of denial or a sense of duty, or both, they worked until they finished. And it was just in time, as the fading sunlight had rendered the conference room too dim to do much of anything but fumble our way out.

A War Zone

I drove home that night through what looked like a war zone. Helicopters chopped the air overhead. Broken glass, everywhere. Traffic lights, not working. Buildings, dark. People ambled about zombie-like, not knowing where to go or what to do.

When I finally arrived at our Glen Park apartment, Nick was already home, having made the treacherous drive from his Santa Clara office some 40 miles south. It took him more than two hours to make what was typically a 45-minute drive.

Nick was relieved to see me but wondered why it had taken me so long to get home, given that my office was in the city? I explained the need to stay with the judges until they finished their work, so I could meet my deadline. "I was so worried about you!," he said, relieved but also understandably miffed. He described his experience — most notably, witnessing the water slosh out of a fountain as the ground beneath it swayed from side to side.

Unexpected Free Time
In the following days, many people - including Nick and me - stayed home, as city inspectors wouldn't allow anyone to enter public buildings until they'd been deemed safe. Thus, at a time when few people had laptops or cell phones, and when local phone service was spotty at best, many Bay Area residents were free to spend their days how they pleased. But it seemed no one knew what to do with their unexpected free time. We walked around our neighborhoods in a collective daze, clueless.

Speaking of being clueless. Nick and I had planned to spend the following weekend in Santa Cruz. Given the situation, we cancelled our plans. In our infinite wisdom, we decided that instead of going to Santa Cruz, we'd throw an earthquake survivors' party for our friends. And where did we have the party? On a high floor in the Westin St. Francis hotel's tower.

Not surprisingly, the hotel had had many cancellations and practically gave us a suite for pennies on the dollar. Several friends even showed up for our party, though everyone was glued to the walls, in case of aftershocks.

The Ground was Gaslighting Me


And there were aftershocks. Too many to count. The earthquake put everyone on edge and the frequent aftershocks kept us there. I couldn't sleep, I couldn't think straight. I couldn't discern an aftershock from a bus rumbling by outside. Everything seemed to be rattling. Or was it? The ground was gaslighting me.
Early one morning, for instance, I went into the bathroom to pee. I heard, or thought I heard, a gentle tapping sound. I made myself as still and quiet as possible. Was I imagining that sound? What the hell was it? Then I realized: the two sliding glass shower doors were gently tapping together. It was another aftershock. Or was I walking in my sleep? Thirty years later, I'm still not sure.
My Own Private Earthquake


Earthquakes happen because stress builds up underground and must be released. After 10 days of aftershocks, I experienced my own earthquake.

Nick and I decided to watch the televised resumption of the World Series, in which the San Francisco Giants were playing the Oakland As at Candlestick Park. Game three of the series had to be called off on Oct. 17 because of the earthquake, which occurred about 30 minutes before the game.

Ten days later, the World Series was set to resume. Nick and I were at home watching the re-opening ceremonies as Val Diamond, the magnanimous star of the long-running SF musical extravaganza "Beach Blanket Babylon," came out with other cast members to sing "San Francisco," the city's unofficial anthem and the show's rousing climax.
Val Diamond in "Beach Blanket Babylon" Credit: Via magazine
Diamond, as she did in the show known for its outrageous hats, wore an elaborate replica of the city's skyline on her head. I was riveted as she sang:

San Francisco, open your Golden Gate
You let no stranger wait
Outside your door
San Francisco, here is your wandering one
Saying I'll wander no more

Maybe it was the fabulous hat that did it. Most likely, it was my love of San Francisco and how this moment represented a perfect expression of my love. Whatever it was, in that moment I experienced my own private earthquake. I burst into tears. After ten days of buildup, the stress had been released, if only for the moment.

From Disaster, Renewal


In 1989, I learned about the upside of disaster: that it paved a path for renewal.

In the years after the Loma Prieta quake, San Francisco blossomed. Ugly freeway overpasses — most notably the one that marred the Embarcadero shoreline — were demolished because they'd become structurally unsound and too impractical to repair. With the overpasses gone, new developments materialized in their place.

The city planted elegant Canary Island palms along the Embarcadero. A new rail line transported passengers up and down the waterfront thoroughfare in vintage trolley cars the city acquired from around the world. The San Francisco Giants built a new ballpark at the foot of the renewed Embarcadero, and just south of it, an entirely new neighborhood (Mission Bay) eventually materialized. You might even indirectly credit the 1989 earthquake for the brand-new Chase Center — home of the Golden State Warriors.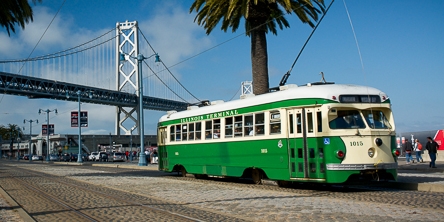 The revitalized Embarcadero Credit: SFMTA

Nick and I were lucky. We were uninjured and there was no damage to our apartment, except for a minor crack in the outside hallway ceiling and an old paperback that fell off a high shelf and split into two. Others weren't so lucky. The earthquake killed about 67 people (reports differ) and caused $6 billion in damages. Though the Bay Bridge didn't collapse, a section of it did, killing several people. For years after, I could always tell where the collapse had occurred because as I drove over the rumble-strip replacement section, my car, if not my soul, rattled.

I Learned Something Else, Too


Seven years earlier, Adrienne Ivey, a colleague of mine at the Roanoke Rapids Daily Herald, had written a column about me when I was leaving the paper to take a job in Charleston. In it she wrote, and I paraphrase, that I was a delightful person and she'd enjoyed watching me develop into a good reporter and writer, but that I lacked survival skills.

She was half-joking and I didn't take offense, because there was truth in what she wrote. But in experiencing my first major earthquake — and still meeting my deadline despite it — I knew Adrienne's assessment of me was no longer accurate.